Spacedots
Weird top-down collection game made for Global Game Jam 2021.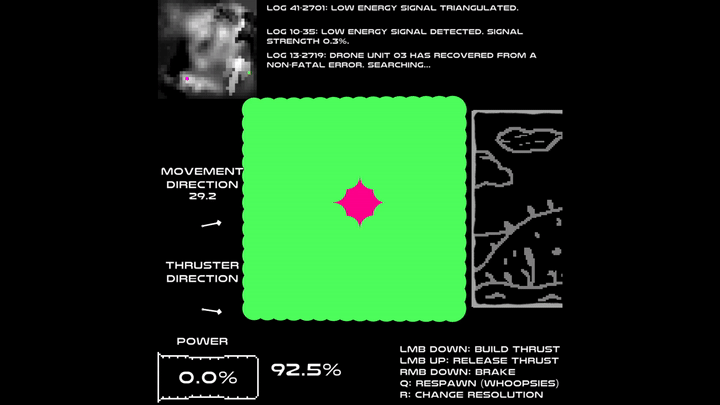 Made for Global Game Jam 2021 over a couple of days, this game is a short collectathon in which you play as a drone sliding across the planet to find parts for an SOS communications system after crash-landing on a deserted planet.
To move, you charge thrusters by pressing the left mouse button, then release to get launched with an impulse. The right mouse button is used to brake, which helps reduce accidental overshooting.
The main weirdness with this game is its interface. I was going for a very minimal theme, as though the drone was operating under limited information e.g. from interpreted low-res satellite data. The "screen" is made up of a 16x16 grid of circles, whose size are determined by the height of the nearby terrain.
Terrain is made up of a number of small biomes such as meadows, lakeside, desert, and crashed airship. The biome controls the colour of the landscape circles as well as the small animated landscape representation to the right of the screen.
The magenta circles are your drone, and you can always see your approximate objective and drone positions via the minimap in the top left corner of the screen.
You can download a copy of the game here, for Windows