RFDS Kids Club
An iPad game promoting healthy lifestyles to young children via colourful minigames!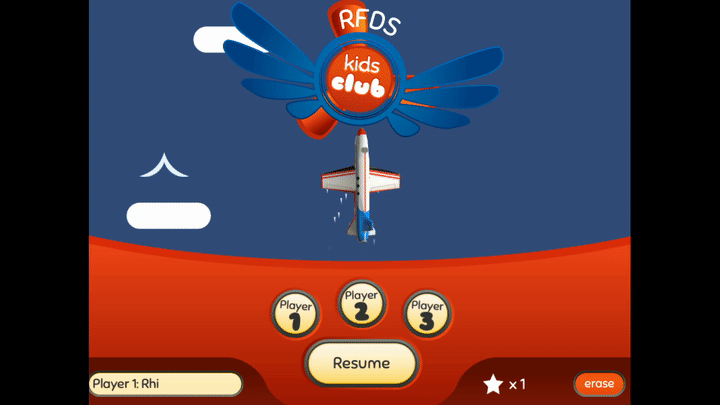 In 2018 Bitlink was commissioned by the Royal Flying Doctor's Service to create an iPad game for kids around 3-6 years old, aimed to promote healthy living and awareness. It was intended to tie in with the RFDS' youth outreach program, though this never eventuated.
We developed a rough prototype of each level in collaboration with local artist Ben Lambert, who made the art assets.
In this app, players would play one of four minigames to complete objectives, reach high scores and earn stars, which are used to buy aesthetic items in the in-game shop.
Each game was themed around a simple wellness goal for children. Drinking water, washing your hands with soap, brushing your teeth and eating healthy food
The first minigame is a short runner-style game in which you control someone on an ATV in outback Australia, collecting water and packages for delivery.
The second minigame is a timed bubble popping minigame themed around handwashing. The objective was to pop bubbles containing pathogens before they flew off-screen. A simple combo system was implemented to reward accuracy and consistency.
The third minigame (my favourite) is a game in which you brush the teeth of a grumpy Tasmanian Devil by sweeping your finger across the iPad. As you brushed, the critter would growl, burp, and occasionally chomp down, and if your finger was anywhere near its mouth you'd hear an "ouch" and wouldn't be able to brush for a moment or two.
The final minigame was a match-three style game where you'd line up three of the same food items to destroy them and earn points. Items were categorized as fruit, vegetable, dairy, meat or snacks and depending on the ratio of foodstuffs eaten, you could earn bonus points.
I mentioned earlier that players would earn stars based on completing simple objectives within the minigames. These stars are used to purchase little in-game postcards depicting various pieces of equipment. Once purchased, you can click on them to see a little description of the item and how they're used.
And that's the RFDS Kids Club!